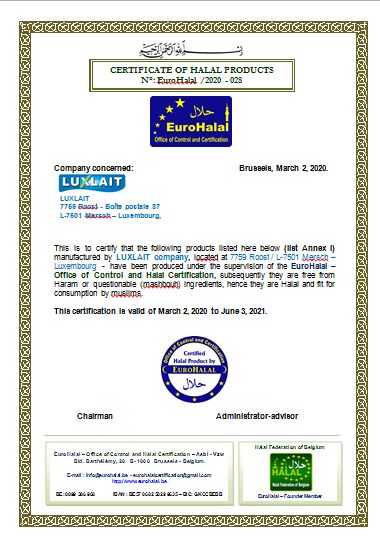 Objectives of Certification
Our concern first is to return to the particular Muslim consumers scrupulously in search of products conform to their expectations.
EuroHalal – Office of Control and Certification has as a major objective to answer waitings of the consumers of Muslim religion which requires a product that is HALAL in agreement with their faith and their  religious  rites and but also these of the producers interested by the production of labialized HALAL food.
Our responsibility towards the Muslim consumers is very important. Indeed, we propose to them, by our seal, the insurance that the food or in a more general way the product than they buy is in conformity with their waiting's and this in agreement with their faith.
CONTROL METHODS AND OF CERTIFICATION
Being the responsibility for EuroHalal towards the consumers and the companies, the delivery of a certificate is conditioned with a series of control whose nature varies according to the matters and products' to be controlled.
APPLICATION OF SPECIFICATIONS
The control methods and certification are based on rules and procedures recognized by the Federation of the Institutions and Offices of control and Belgian Certification (Halal Federation of Belgium – HFB) which follows the European standards (cf codex – European) according to specifications .
Thus, as regards control, our seal "Halal Certified Products by EuroHalal" is affixed on the products only after one process of checking of the various stages of the production or the process allowing the manufacturing of the Halal products.
The possible recourse to the services of an analysis laboratory is one of the aspects of control as for the ingredients and the matters entering the manufacturing of a product that is Halal.